Nov. 15, 2023
In the electricity experiment, sometimes we need more current or voltage power supply, in this condition, several power supplies can be parallel or serial connected to realize this function. It can be applied in many conditions, such as high power load is required in the electricity circuit, and redundant power supplies are required to strengthen the system's stability. The parallel or serial connection of power supplies can increase the current or voltage output in the electricity circuit.
Along with the technology development, smaller size, and multichannel power supply can meet nowadays engineers and teaching requirements. Suin SK3323/3325/3503 three channels programmable DC power supply is just one example.
Please see the below pictures of the parallel and serial connection of SK3323 and pay attention to some points during the experiment.
1. Connection way. Parallel and serial connection are two normal connection ways.
During serial, the positive terminal of channel 1 should be connected to the negative terminal of channel 2, the current of the serial connection is the same as that in independent channel output, while the voltage is the sum of two channels, which solves the high voltage requirement.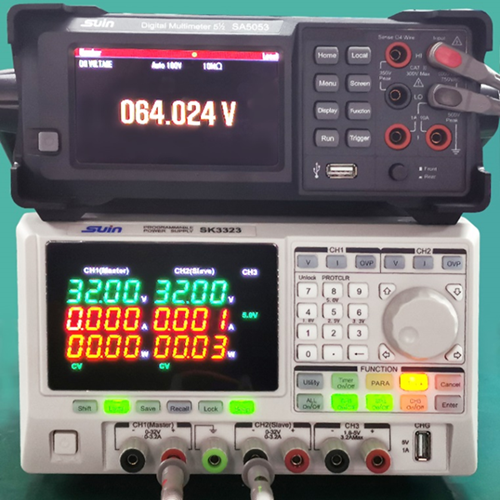 Serial connection on SK3323
In parallel, you just need to connect as the independent channel output, and press 【PARA】 to enter the parallel connection way. The voltage in parallel remains the same as that in independent channel output, but the current is the sum of two channels, which solves the high current requirement.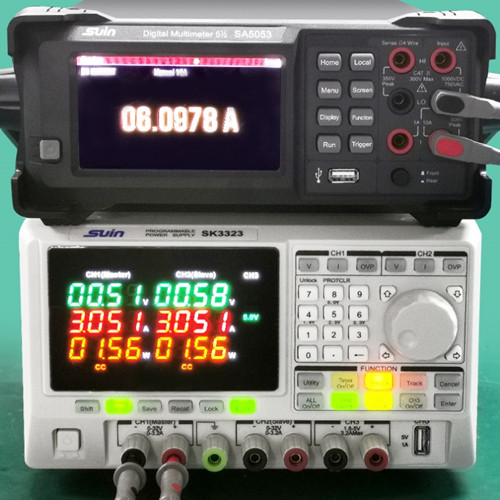 Parallel connection on SK3323
2. Over voltage and over current protection. Parallel or serial connection power supply should have proper control and protection to the current and voltage to make sure the power supply running normally without making any injury to the operator or the instruments. Suin SK3323/3325/3503 power supply has such a function too.
If you are interested in it or have any questions, please do not hesitate to contact Suin.