Jul. 27, 2017
If you have professional questions about Spectrum Analyzer, please contact us
We are specialized in producing electronic test and measurement instruments, which include signal generator, power analyzer, spectrum analyzer, power supply, function generator, digital multimeters and other instruments
Hard keys, soft keys and knobs are the basic means of operation for spectrum analyzers.
1. Spectrum analyzers three big hard keys and one big knob:
The function of the big knob is set by three hard keys.Press the frequency hard key, the knob can fine tune the center frequency of the instrument display;Press the scan width hard key, the knob can adjust the frequency of the instrument scanning frequency;Press the amplitude hard key, then the knob can adjust the signal amplitude.When rotating the knob, the center frequency, the scan width (start, stop frequency), and the amplitude of the dB are displayed on the screen at the same time.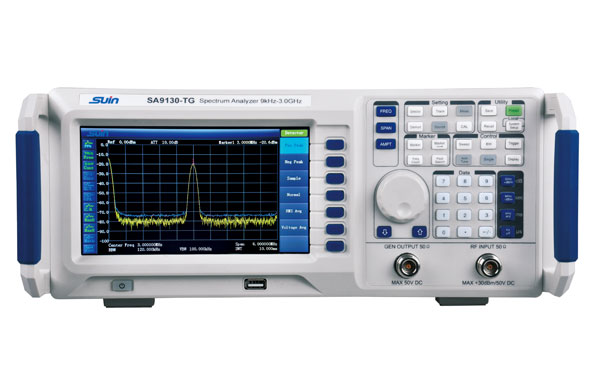 2. Softkey

On the right side of the screen, there is a row of buttons that are not marked in the vertical direction. Its function changes with the project.
3. Other hard keys:
INSTRUMNT STATE has ten hard keys: RESET, CANFIG, CAL, AUX CTRL, COPY, MODE, SAVE, RECALL, MEAS / USER, SGL SWP. MARKER has four hard keys: MKR, MKR, RKR FCTN, PEAK SEARCH. The CONTRL area has six hard keys: SWEEP, BW, TRIG, AUTO COVPLE, TRACE, DISPLAY.